It's actually normal for your heat pump to ice up during the winter. It's natural for the entire coil to be lightly covered in ice in certain weather conditions, if fact, though the defrost cycle kicks on when excessive ice buildup is detected. When in defrost mode, heat from the refrigerant is used to melt the ice away.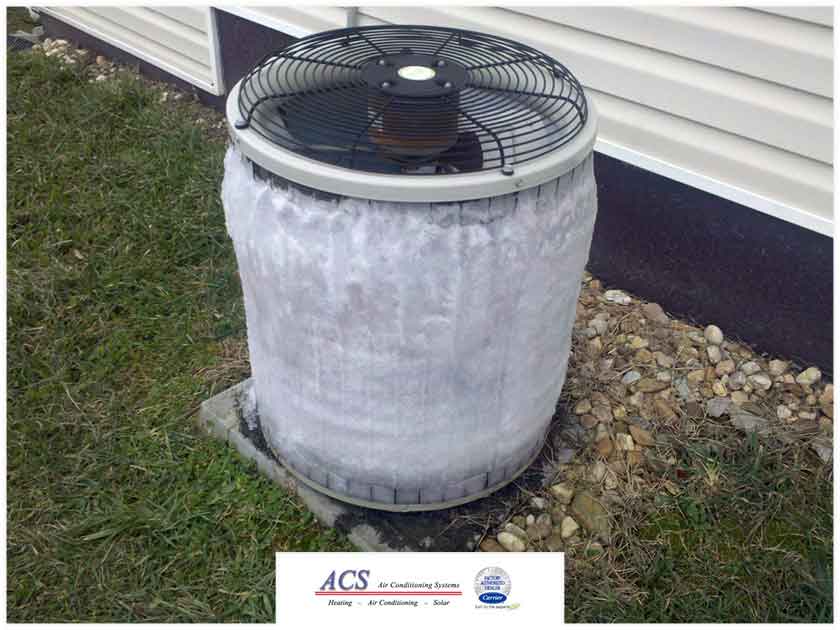 There will be times when your heat pump gets completely covered in ice for an extended period of time. When this happens, you'll need to have it checked by a professional technician, as this indicates that something may be wrong with it. Our heating and ductless air conditioning team at ACS provides more insight in this post.
Why Does Your Heat Pump Freeze Up?
A frozen heat pump occurs when the air outside is transferred to the refrigerant, which builds up excess moisture from the air on your unit's coils. That same moisture can freeze into layers on your heat pump on cold days, and if this accumulates enough, it becomes difficult for your unit to perform properly.
Troubleshooting Tips When Your Heat Pump Freezes Up
If your heat pump is covered with frost or ice, first check to see if the defrost cycle has kicked in. If the ice melts away after a while, then your pump should operate normally again. If it's still completely covered in ice and frost after 30 minutes with the defrost cycle still on, however, you may have to shut the system off and call your heating and air conditioning contractor for a thorough inspection. Here are other troubleshooting steps you can also take:
Check the air filter of your unit to make sure it's not clogged or damaged. Replace it if it's dirty.
Try to remove any ice that's built up on the top of your heat pump. Use a garden hose to melt the ice away instead of jabbing it with a sharp object; doing the latter may damage your unit.
Check the air vents and registers indoors to make certain they're not blocked by boxes, clothing, furniture or other items.
Leaves, grass, sticks, snow and other material near your heat pump could disrupt its airflow or block the outdoor coil, so make sure to clear them out properly.
With the excellent heating and air conditioning services offered at ACS, you can be sure that we've got your HVAC concerns covered. Give us a call at (925) 676-2103 or fill out our contact form to schedule a consultation. Request a free estimate today!