Heating Repair, Installation & Maintenance Services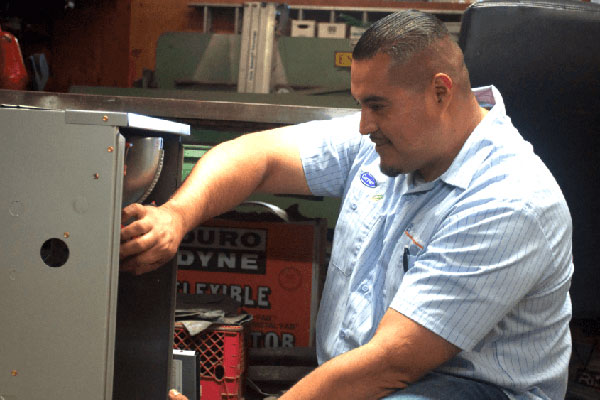 When winter settles over the East Bay Area, you need a dependable heating system to keep you warm. At ACS Air Conditioning Systems, we've built a reputation for offering the most dependable and knowledgeable heating repair and installation service in the area. We are a proud factory-authorized dealer of Carrier® brand heating and furnace systems. We also do maintenance and repairs on all makes and models of heating systems, including furnaces and boilers.
Fast Heater & Furnace Repairs
Some HVAC service companies treat a heating system breakdown as just another job, but we treat it the same way that you do: as a pressing need that needs to be resolved quickly. Our heating repair technicians have over 50 years of experience and have learned the ins and outs of all types of systems. We can quickly diagnose the problem and implement a solution fast. Because we keep our trucks well-stocked with the parts that most often fail, we can usually get your system in working order in almost no time at all.
With an A+ rating from the Better Business Bureau as well as other awards, you can rest assured that when you need fast heating repair, there is no name more dependable than ACS.
Maintenance Programs for Heaters & Furnaces
Given the amount of wear and stress placed on your HVAC system throughout the year, performing regular maintenance is a must. With routine maintenance by ACS, you can extend the life of your system, avoid costly repairs and even lower your monthly energy bills! We recommend doing at least seasonal maintenance work, so that as you switch from air conditioning to heating, your system is prepared and ready for the transition. We offer a variety of maintenance plans, from one-time to regular, depending on your specific needs. Contact us today to sign up for a routine maintenance program customized for your home or business!
Expert Heating System Installation & Replacement
When the time comes to replace your heating system, ACS is here to help. We know that choosing a new heater or furnace can be a daunting task. There's a lot to consider, from size and compatibility to brands and SEER ratings. We get rid of the guesswork. When you contact us for a free quote, we'll evaluate your home or commercial property to determine your specific needs and we'll sit down with you to review our recommendations. Once you approve your personalized plan, our team of expert technicians will get your new system in place so you can enjoy warm, lasting comfort. Contact us today to find out about how you can save on an energy-efficient heating system.
Contact Us for a Free Consultation & Quote
Whether you need heating repair work or maintenance, or you're looking to install a new system, we can help. ACS has the most dependable, customer-oriented team around. Contact us today to set up an appointment for a free quote! Call us at (925) 676-2103 or fill out the form and we'll respond shortly.