Heating and Air Conditioning Resources

Using the most energy-efficient HVAC system possible in your home makes effective use of energy and thus lowers your energy costs. ACS Air Conditioning Systems provides a variety of HVAC Services and Systems, helping you assess your home's needs and choose the one that best meets them.
Types of Heating and Air Conditioning Systems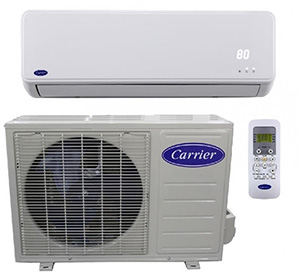 Split Systems
The heat is provided by the furnace and the fan runs throughout the year to circulate air for both the heat and the A/C. There is an evaporation coil that is the indoor system component working with your cooling unit, which is placed outdoors. The air ducts carry both heated and cooled air throughout the home while the thermostat is your control for the system.
The U. S. regulatory agencies require all new air conditioning systems to have a SEER rating (Seasonal Energy Efficiency Ratio) of 13.0 or better. We have some A/C systems with SEERs as high as 21. They also require that oil-fueled or gas furnace have an AFUE (Annual Fuel Utilization Efficiency) rating to demonstrate how much of the fuel consumed is actually used in producing heat and how much is wasted. With both of these ratings the higher the number, the greater the energy efficiency and energy bills savings you will receive with the system. We even have some furnaces with AFUEs greater than 98.
Hybrid Heat® Split System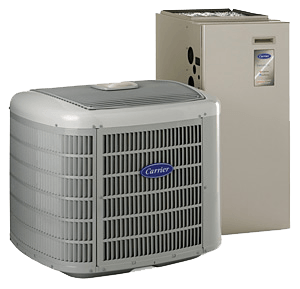 The heat is provided by a gas furnace that is combined with the use of an electric heat pump. The extra advantage here is that the heat pump also functions as the air conditioner. In warmer climates a high efficiency heat pump fulfills your heating needs for most of the year with a lower efficient furnace as backup for really cold nights. In colder climates, the use of a high efficiency furnace is necessary for the winter months. A lower efficiency heat pump can serve you well in the fall, spring and some milder winter days while providing you with cost savings.
Ductless Split System
The ductless system is designed to cool and heat rooms that have been added to a home without installation of duct work or for a garage or basement room. It includes an outdoor A/C or heat pump unit, a compact interior wall unit and the wire connections and refrigerant tubing passed through a small wall space that are necessary to connect the system.
Geothermal Heat Pump System
The Heat pump gains greater energy efficiency by drawing heat from the consistent temperature source of the earth itself. Geothermal systems may be used for both cooling and heating or the heat pump can be paired with a furnace for a dual heating system. Radiant heat hydronic systems are all geothermal technology that can also be used to supply your hot water.
In today's environment we all have a duty to be environmentally responsible and using energy efficiency is one of the primary ways we can achieve that goal. If your energy bills continue to rise each month, your system needs more frequent HVAC Repair and the A/C is noisy enough to consider calling a certified technician to come do some HVAC Troubleshooting, call us to discuss the benefits of a new high efficiency HVAC system. ACS Air Conditioning Systems will offer a free assessment and recommendations for installation of the right system for your home or help you with the HVAC Resources to get the most efficiency from your current system.