Refrigerants are compounds that absorb heat from indoor air. They're used in air conditioners and HVAC systems to keep indoor temperatures at comfortable levels. In theory, there should be no need to replenish refrigerant levels because HVAC systems and air conditioners are closed systems. However, if there's a leak, the refrigerant may need to be replenished.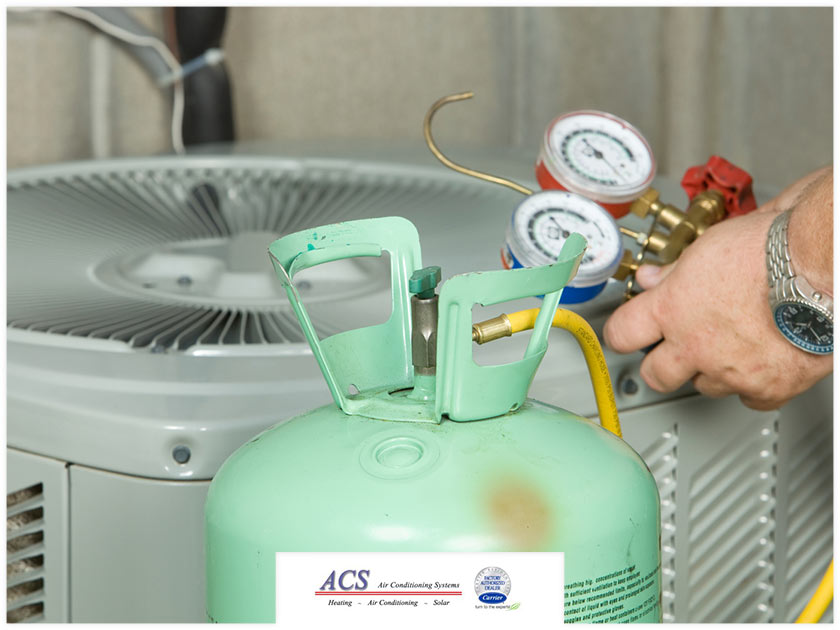 What are the warning signs of a refrigerant leak and how are they tracked by HVAC contractors?
Warning Signs of a Refrigerant Leak
What are the signs your HVAC system or air conditioner is leaking refrigerant? The usual warning signs are:
Higher electric bills
Warmer indoor temperatures despite a lowered thermostat setting
Air vents that are blowing warm air
An air conditioner or HVAC system that runs longer than normal
How Refrigerant Leaks Are Detected
Our qualified technicians at ACS Air Conditioning Systems will start by inspecting three components: the evaporator coils, condenser coils and refrigerant lines. These components are usually the source of refrigerant leaks.
We discuss how each component can be damaged below:
Evaporator coils – The tubes within evaporator coils tend to vibrate when the air conditioner is operating. These vibrations may cause some of the tubes to rub against each other. Over time, this can create holes through which refrigerant could leak.
Condenser coils – Condenser coils face the same problem: they vibrate while the system is running, causing some of the tubular sheet metal at the ends of the coils to rub against the ends of the copper tubes. Eventually, this will create holes.
Refrigerant line sets – The joints in refrigerant lines are where leaks usually form, but it's also possible that the refrigerant line was accidentally damaged during a renovation.
Have you noticed issues with your HVAC system?
ACS Heating and Cooling Services offers a wide range of professional HVAC services as well as indoor air quality and solar electricity services. To schedule an HVAC inspection, call us at (925) 676-2103 or fill out this form.