Not everyone can be an HVAC professional or discern which common myths are in fact true. We understand anyone can fall prey to bad advice when it comes to cooling systems.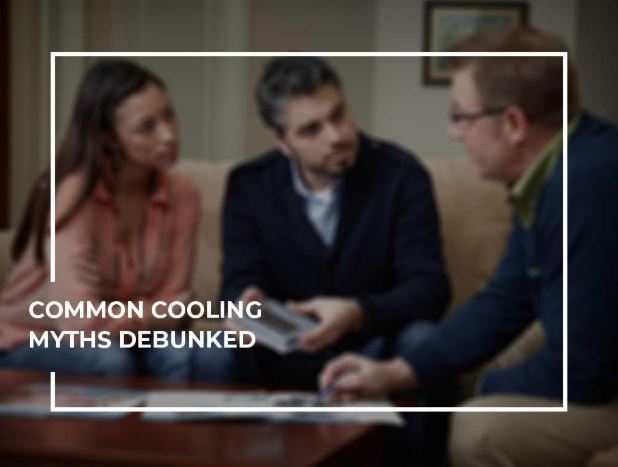 Thankfully, AC repair experts have chimed in on which practices are nothing but a myth and complete waste of money. Read more below.
Fans Cool Your Room
Fans actually cool down your body and not your room. They mimic a breeze or a wind chill, which help the sweat on your body evaporate, eliminating excess humidity. Don't leave any fan running in a room without a person in it.
The only time a fan could cool a room is if the temperature outside is cooler than the inside. A fan that is turned away from a window can capture cooler air outside and blast it into a room. Another way is to put a basin of ice or an ice block in front of the fan. But it's not the air from the fan that would cool the room; it's the cold water droplets and vapor that the fan would disperse throughout the air.
An Air Conditioner Just Cools the Air
While AC units cool the air, they also remove the humidity in the room, which can make you feel sticky and hot.
A Lower Thermostat Temperature Doesn't Mean the Room Gets Cooler
Air conditioners work at a constant pace and turn off when the temperature is met. So if you put it to a very low temperature, it will work longer and take longer to turn off, which will make you pay more for energy.
You Need to Replace Your Air Conditioner ASAP
Unless your AC unit is blasting hot air, a cleanup, maintenance check, and even plugging up leaks and drafts in your home can get your unit working in top shape again.
Clear the Record With ACS Air Conditioning Systems
Keep in mind that you can get solid advice from certified HVAC professionals in Concord, CA, like ACS Air Conditioning Systems. Call us now at (925) 676-2103 to set up an appointment. Our certified professionals can answer all your questions about AC units.